To belt or not to belt?… That is the question.
In my first blog post, "5 Questions You Must Ask When Buying Vintage or Antique Items", I mentioned that you should shop for vintage accent pieces that can really make your style stand out from the crowd. A perfect example of this kind of accent piece for your wardrobe is… The Belt. It is always fun to try new things when it comes to fashion, and using belts is one of my personal favorite ways to add a pop of color, to appear more slim when I am wearing frumpy clothes, or to make an outfit truly come together.
If you are like me, you probably get tired of wearing the same outfits over and over again, but one of the best ways to switch up the outfit to make it appear fresh and new is to add a belt to it. And luckily, there are so many ways to wear a belt with an outfit. Therefore, I am here to give you some guidance and examples of what works, and what really makes an outfit pop.
Example 1: Tucked in Shirt with High Waisted Jeans
This is my go-to look when I wear jeans. There are a lot of ways to get creative when it comes to wearing a belt, but I am a huge fan of the old-fashioned way of going through the belt loops of your favorite high-waisted jeans to accentuate your waistline! Also, this fun red belt only cost me $3 from Goodwill, and it adds the perfect pop of color!
Example 2: With A Dress
Wearing belts with a dress is not something that you typically see because, I mean, you do not actually need a belt to keep your dress up. BUT, being practical doesn't exactly get you far with fashion, and I have found that wearing a belt high around your waist really shows off your natural waistline while wearing a dress. A belt is also the perfect thing to add to a dress that is not form fitting (and might I say baggy) because it can pull in the extra fabric, and make the dress look more "put together". In other words, it can create shape where there is none!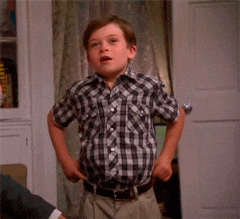 Example 3: Over A Cardigan 
Fun fact: I hate to be cold, and sometimes I need to wear a cardigan with my outfit in order to stay warm. If you can relate to this (especially if you live in NY), then you probably also wear a lot of cardigans. The only issue is that they can come off a bit frumpy. A great way to remedy this issue is to pull the outfit together with a belt over the top of the cardigan. It looks best when you use a thin-to-medium sized belt around the natural waistline because it makes you look thinner than just letting the cardigan hang loose without any belt! This is a win-win situation: to staying warm AND looking your best!
Example 4:  Unique & Unusual Belts
I found this brown belt with small people embroidered on it at a yard sale for $5. It is one of my all-time favorite finds because everyone always notices the tiny embroidered people, and then they ask where I got it. These kinds of belts are the perfect "Conversation Pieces"! And, you would be surprised at how many thrift stores and antique shops have these one-of-a-kind belts at a super low price, so you should always keep your eyes peeled! Adding this fun belt can bring some personality to even the most plain white outfit (as seen above).
And finally…. I will leave you with some easy tips on how to style your belt!
Alexandria's Belt Styling Tips:
The Difference Between a Waist Belt & A Hip Belt: Remember that belts will draw attention to whatever part of the body they lie across. I personally think that waist belts (on women) are more flattering because they emphasize the smallest part of the women's body! But, if you are wearing low-rise jeans, then you will have to wear a hip belt. Therefore, if you want to show off your belt in a low-rise jean, then you should tuck part of your shirt in so it can be seen in the front! This will make the middle-front section visible, which will also give a slimming effect!
Knotting A Belt That Is Too Long: Have you ever found an item that you have really loved, but it wasn't your size? Well, fear not because belts that are too big can still be used! To redeem a belt that is too large, you must learn to knot it (see image below)! This goes perfectly with a casual look around a dress or cardigan!3.  Adding A Pop of Color: I love it when the colors of my outfit match, but they don't exactly have to! Matching will certainly make you look more polished and conservative, but mismatching will give you an extra element of FUN! Do not be afraid to play around with bright colored belts (very 80s) that do not necessarily match your outfit!
A Gallery of Extra Photos: