"I can open your eyes
Take you wonder by wonder
Over, sideways and under
On a magic carpet ride". -Aladdin 
We all know that carpets can be magical, but can this unusual fabric help you step up your style game? I think so! Today, I am going to explore how to wear three different types of vintage clothing pieces that are made out of: Carpet. And when I say carpet, I mean that the pattern and the texture of fabric in these items has the look and feel of a really cool vintage rug. This fabric also makes for the BEST statement piece- Trust me!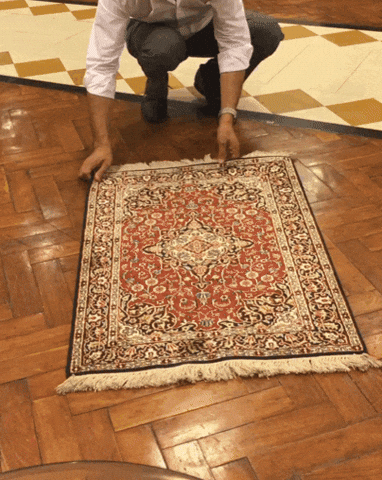 And I know that a lot of people say that art imitates life, but I think that sometimes life imitates art. But, instead of "art" I meant clothes, and instead of "life" I actually mean rugs. So, let's jump right in!
1: The Carpet Jacket
This is my go-to statement piece. I can throw on this jacket with a dress, jeans, or wear it to class as "business casual", aka "art major casual". I picked this piece  up when I was shopping in New York City with my mom at the Brooklyn Flea Market, and it was such a lucky find. Whenever I walk into a room, I am bound to get questions about where it came from. The bright array and range of color in this type of fabric is what makes it so stunning. You can match it with almost anything!
2: The Carpet Shoes
I found these shoes at a thrift store near Union Square called Beacon's Closet my freshman year of college. They have been one of my favorite pairs of shoes since then because they have such a distinct look. Also, a pair of boots this unique bought brand new would sell for close to $500 or more, but if you read all the way through the article, I will let you know what excellent price I grabbed them for (and it will show you that thrifting is the BEST way to shop)! Stay tuned!
3: The Carpet Skirt
I love this mini skirt because of its ornate designs, and I'm also like 95% sure it is made from scraps of an actual rug :). The texture is also super fun because it is kind of fuzzy, and surprisingly warm (I now understand the phrase "Snug as a Bug in a Rug"). I mentioned the importance of texture and design in my first blog post that I have linked here. As I mentioned, design is originally what draws us in, and allows you express your personal taste and style. I would definitely recommend letting these items show the world just how stylish you are!
P.S.- You made it to the end! & for those of you who made it here… the ornate carpet boots were only $15! THAT is why shopping secondhand saves you money, and makes getting ready every day more fun!
Gallery of Extra Photos: